May 2019:  Congratulations to all of the finalists and the winner at this year's Scottish PA Awards in association with HAYS Personal & Executive Assistants.  Outstanding Contribution – Kelly McAulay, PA of The Year Ashley Wheeler, Best PA Newcomer Kirstie Campbell, VA of The Year Heather Warner, and Best Event Organised by a PA won by Gillian Sherry. #ScotPA19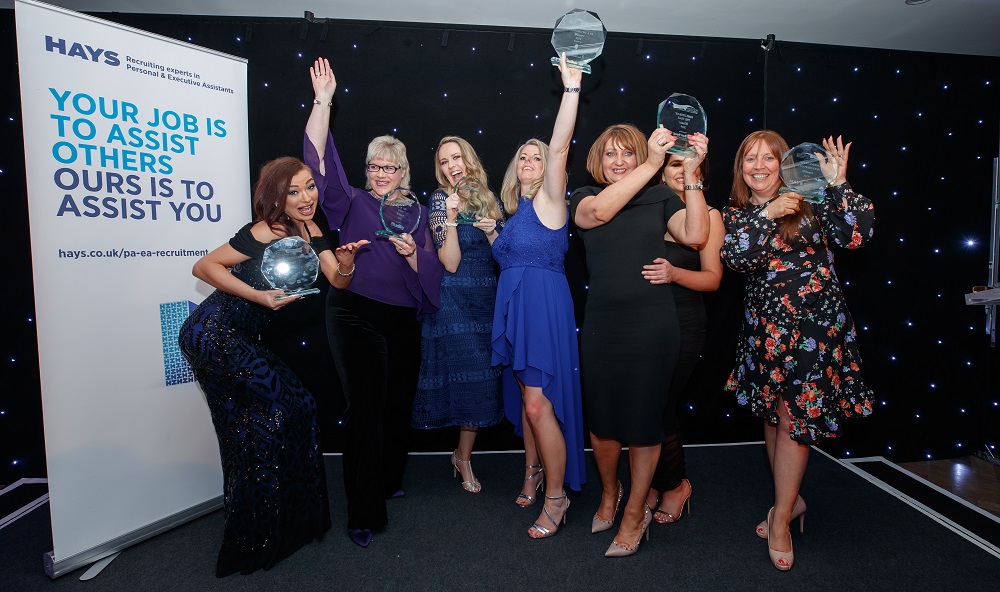 Excited to officially launch London Scottish PA Network after several years of networking between London and Scotland… here we go!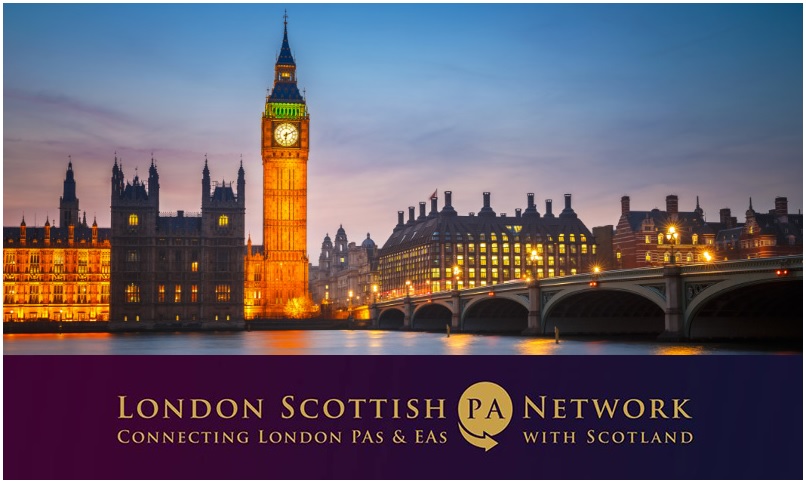 October 2018: Thank you to everyone who attended the PA Training day in Edinburgh with EPAA and Adam Fidler Academy. What a fantastic opportunity to learn from these expert speakers.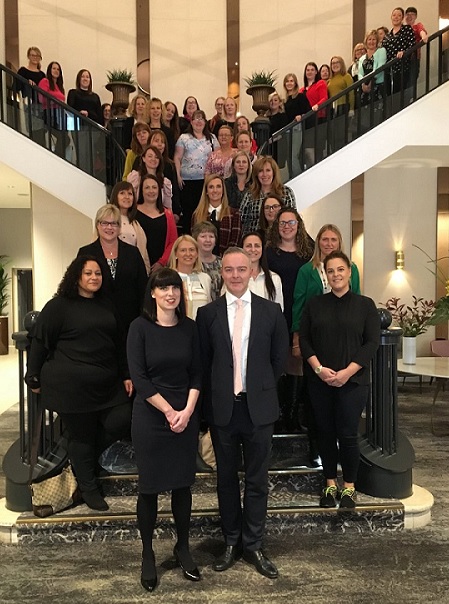 May 2018:  Congratulations to all of the finalists and winners in this year's Scottish PA Awards in association with HAYS PA & Secretarial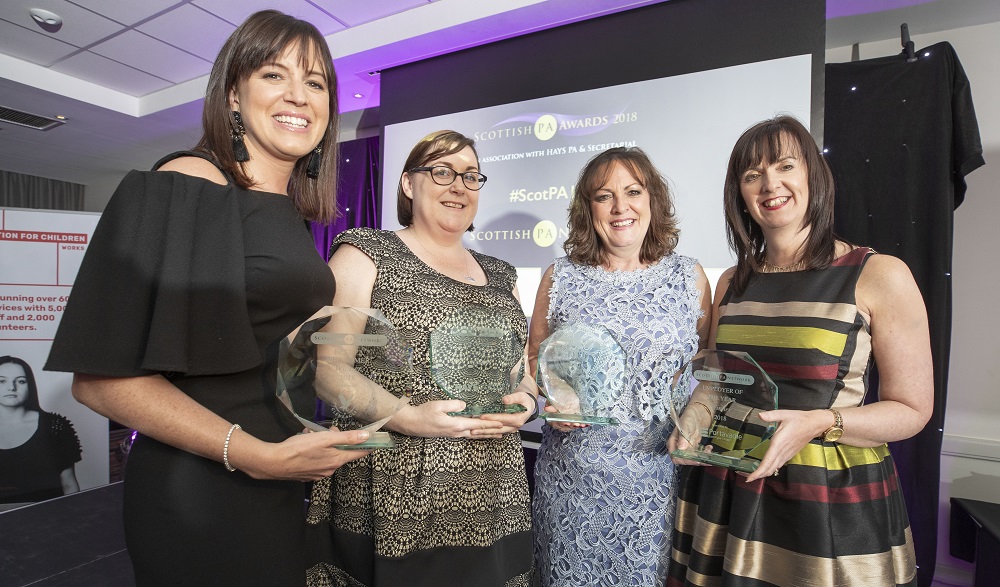 2018 PA Winners from L to R:  Ashley Thomson (Gleneagles) collecting on behalf of Frances Race, Shona Laing, DC Thomson, and Jill Burns of GCU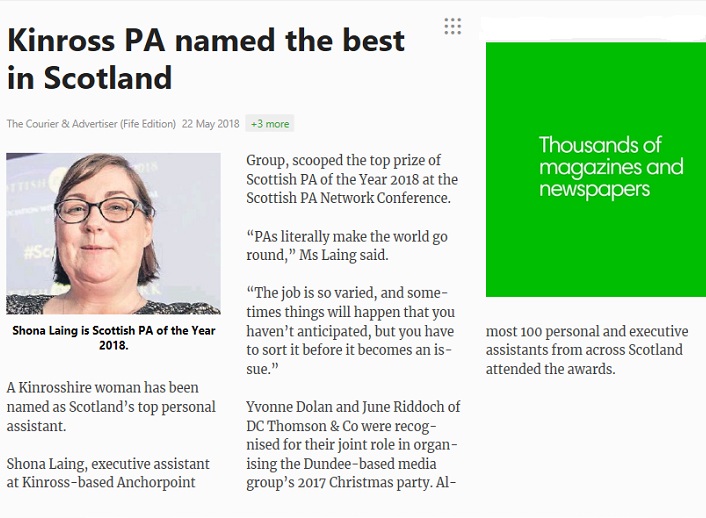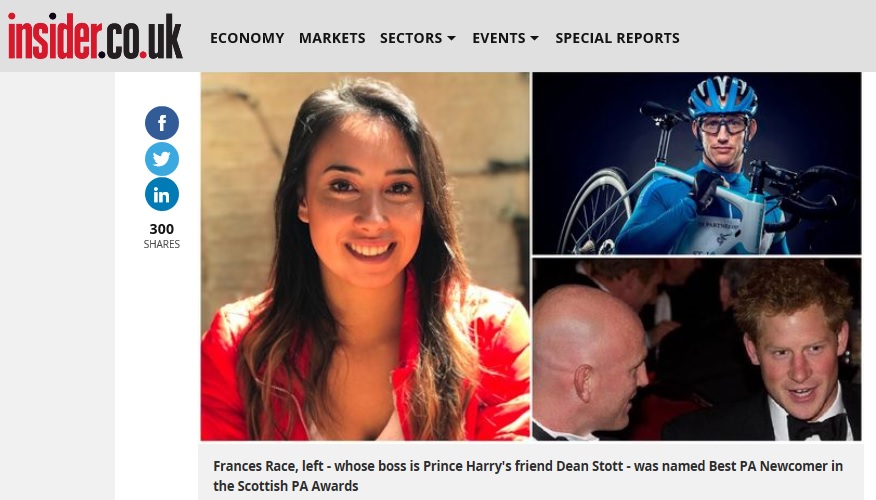 March 2018:  Press Coverage in Daily Record – covering Scottish PA Awards taking place 17th May in Glasgow www.scottishPAawards.com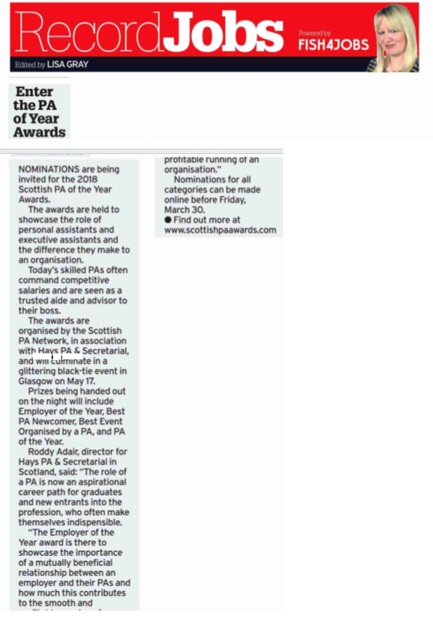 28th March 2018:  Vancouver based Shelagh Donnelly, Founder & Publisher of Exceptional EA, will host an expert speaker session at the forthcoming PA Spring Showcase in Edinburgh.  PAs can book free tickets for the speaker session and annual PA Spring Showcase exhibition here BOOK TICKETS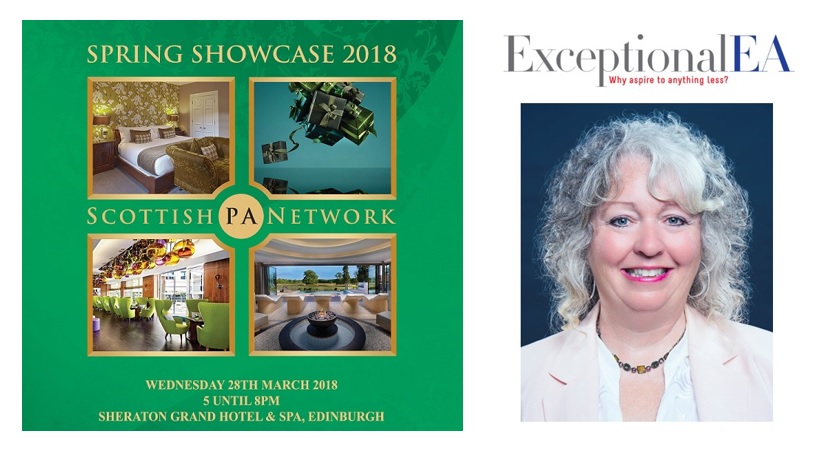 Press coverage:  Scottish Woman Magazine – Double page spread featuring the 2017 Annual PA Conference & Awards #ScotPA17
(2018 Awards will take place on 17th May in Glasgow – enquiries to [email protected] )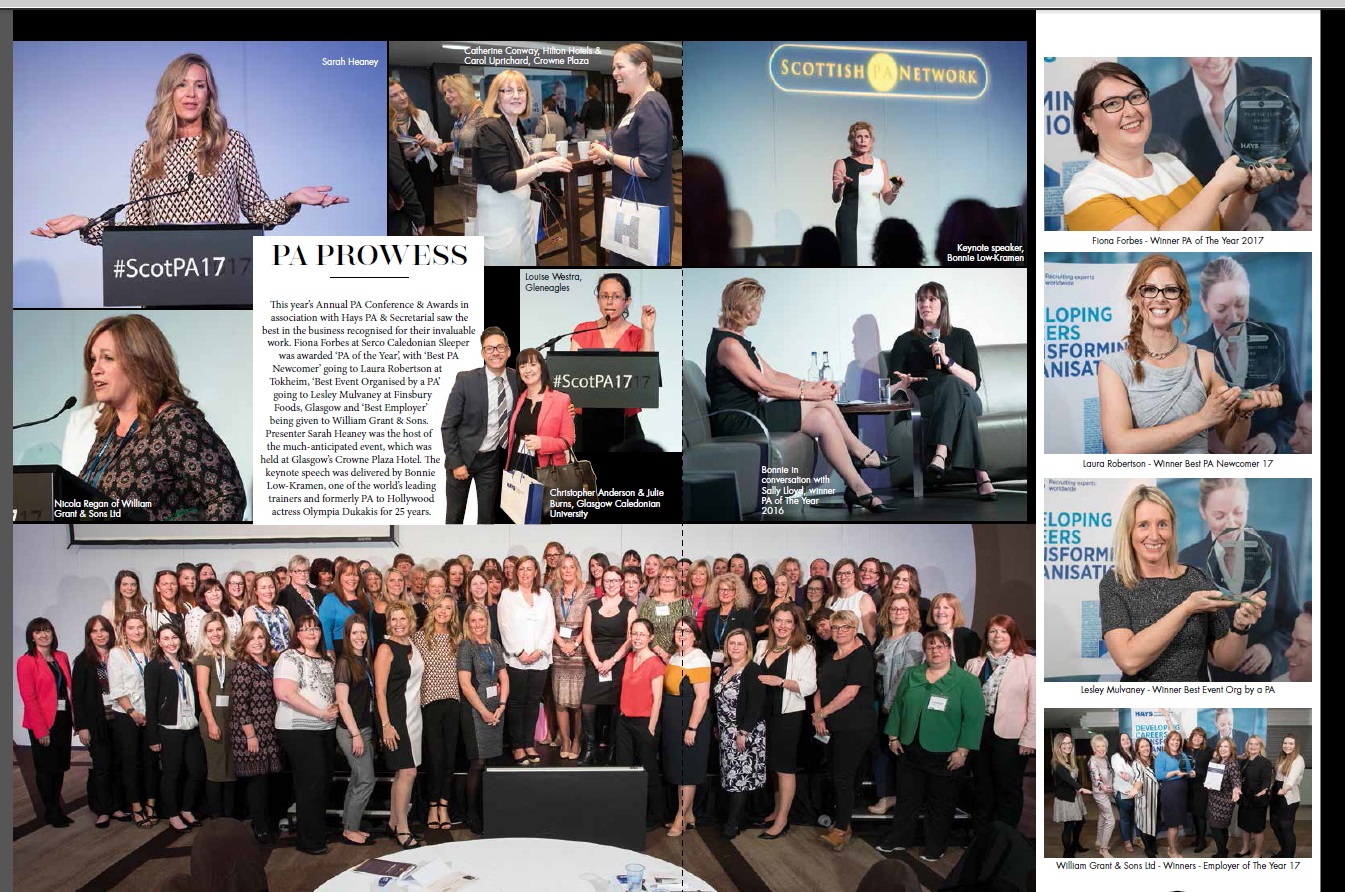 Press coverage:  PA Life Magazine – featuring Scottish PA Awards winner Fiona Forbes – PA of The Year 2017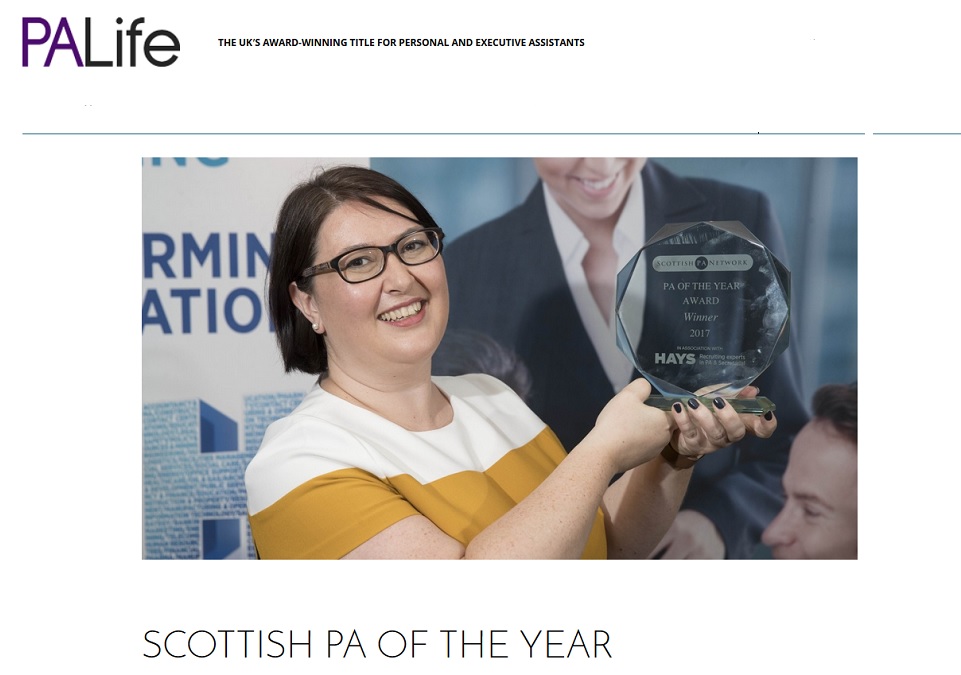 Press coverage:  Business Insider W- featuring the PA team from Grant & Sons collecting Employer of The Year 2017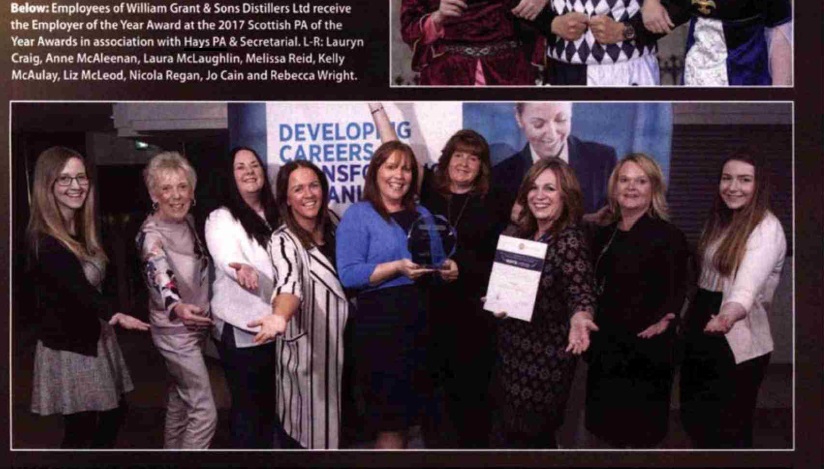 WINNERS – Annual PA Conference & Awards 2017 – www.scottishPAawards.com
PA of The Year – Winner, Fiona Forbes, Serco Caledonian Sleeper;  Best PA Newcomer – Winner, Laura Robertson, Tokheim; Best Event Organised by a PA – Finsbury Foods Corporate Conference; Employer of The Year – William Grant & Sons Ltd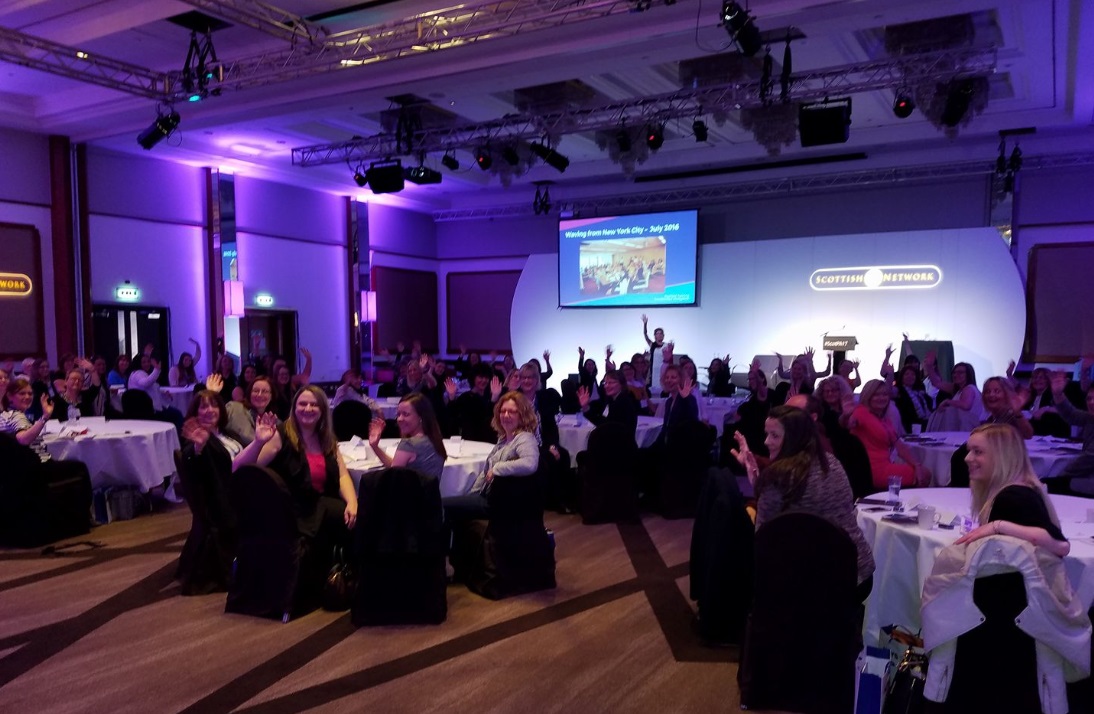 2016: